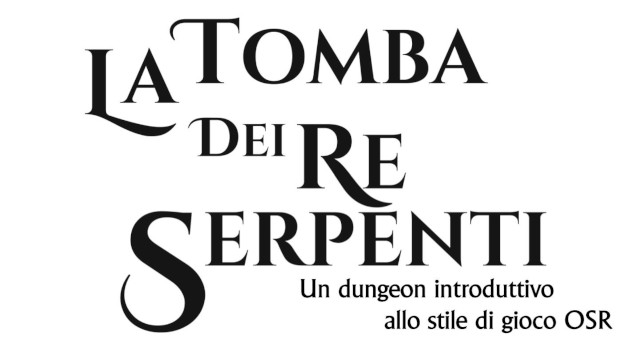 La Tomba dei Re Serpenti
La Tomba dei Re Serpenti è un dungeon introduttivo allo stile di gioco OSR e alla progettazione di dungeon vecchia scuola.
Per quanto tutti conoscano qualche "dungeon classico" — La Tomba degli Orrori, La Città Perduta o Il Tempio del Male Elementale — nessuno ha infatti mai scritto alcun tipo di introduzione affinché quelle avventure abbiano senso per Giocatori e Arbitri inesperti.
Questo dungeon è pensato proprio coprire questa mancanza e per essere un "classico" senza dover campare di strizzate d'occhio ed effetto nostalgia.
Ha la maggior parte dei tropi tipici del suo genere, ed è zeppo di note di design.
Inoltre è progettato per poter essere adattato al tuo sistema di gioco preferito con estrema facilità, in quanto scritto in maniera abbastanza generica.
Questa è l'Edizione Italiana che, oltre ad essere una fedele traduzione dell'originale Tomb of the Serpent Kings, è arricchita da bellissime illustrazioni aggiuntive che accompagnano quelle originali di Scrap Princess.
La Tomba dei Re Serpenti include inoltre tre esclusive Appendici:
Il Bestiario compatibile con le classiche regole Basic/Expert e regolamenti OSR simili;
I Princìpi dell'OSR, che aiutano a conoscere la filosofia di questo stile di gioco.
Canaglie*, un regolamento OSR minimale compatibile con il Bestiario Basic/Expert incluso e con regolamenti OSR simili.
È disponibile anche una mappa per i giocatori (senza i numeri delle stanze e con i passaggi segreti nascosti) e una versione printer-friendly per poter stampare il modulo senza consumare litri d'inchiostro.
Infine è disponibile l'Edizione Cartacea in print-on-demand a prezzo di stampa tramite Lulu.
---
Quest'opera, con l'eccezione di Canaglie, è stata tradotta e rilasciata con licenza CC BY-NC-SA 4.0 Internazionale, ed è disponibile in maniera completamente gratuita.
Canaglie deriva dalla traduzione ad opera di Big Red Dice di Knave, di Ben Milton, ed è rilasciato sotto licenza CC BY 4.0 Internazionale.
---
---
*Canaglie, il regolamento OSR minimale e compatibile con le regole Basic/Expert, è anche disponibile separatamente a questa pagina:

Qui troverete anche la Scheda del Personaggio sia in pdf per la stampa che digitale ottimizzata per il gioco online.
Comments
Log in with itch.io to leave a comment.
This is great work, Does the team have a summary of changes to assist in translating this translation?
Thanks!
We don't have a summary of changes because we really haven't changed much from the original module. We just added to the rooms descriptions the atmosphere and room appearance text from the dungeon summary (you can recognize them because they are in italic at the beginning of room descriptions). We also corrected a couple of internal errors between the main text and the dungeon summary but that's it (I can compile a list of this for you).
We also added a couple of appendixes in the end of the module with the monster stats for B/X rules and a summary of the Principia Apocripha, but you can lift this stuff directly from our module.
In which language do you want to translate the module?

If you had a list that'd be great, would save some time only translating the changed text back to english. Great job with the new illustrations and layout changes.